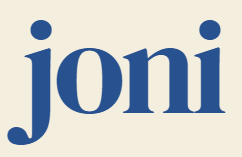 WHAT IS JONI?
Joni manufactures period care products that are made of organic bamboo and are seriously absorbent! Joni pads are 3x softer and 3x more absorbent than organic cotton pads.
WHAT DOES JONI DO?
Joni was founded because the world has changed dramatically, but period care has not kept up. Most period care options are likely stereotypical packaging on conventional plastic products with antiquated messaging that doesn't resonate. The "all natural" products are not reliable and conventional brands have ingredients you can't pronounce.
Joni's mission is to change the business of mainstream period care. Joni gives customers the best of both worlds — all natural products that work plus a social mission that gives back to the communities we all live in.
WHY DOES JONI DO WHAT THEY DO?
With millions of Canadians who menstruate going without period care each month, Joni knew the status quo wasn't working. With the power of social enterprise in mind, Joni created a new model that places the power back into the hands of the consumers.
Joni works with grassroots organizations across Canada, as well as NGOs like the United Way, to distribute donated period products to communities and people in need. Since launching on March 12, 2020, Joni has donated over 101,000 pads across Canada. In October of 2021 Joni moved towards a 5% giveback model so they could help in more ways than just product donations.
WHERE IS JONI?
Joni is located in Victoria, B.C., Canada. However, Joni makes organic period care accessible to all Canadians regardless of location through their free-shipping model. This allows someone in a smaller remote community to have the same access as someone living in a major Canadian city.
JONI'S CLIENTS
Joni feels that hyper-feminine stereotypical branding and images of women running through fields of flowers in white pants are antiquated. We all know better — gender and periods are separate. People menstruate. So Joni focuses on empowering the people who menstruate.